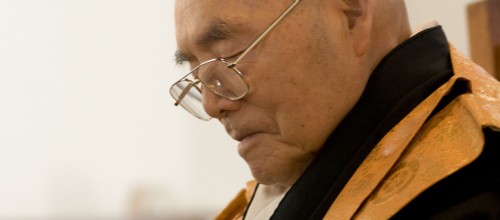 Our beloved teacher Jōshu Sasaki Rōshi passed away at 4:25 p.m on July 27th, 2014 at Cedars Sinai Hospital in Los Angeles.

A viewing called, Missō was taken place at Kobuta Mortuary followed by cremation services at the Evergreen Cemetery in Los Angeles on Friday, August 8th, 2014. Over 60 disciples of Rōshi came together and sat all-night vigil in memory of our beloved teacher, Kyōzan Jōshu Sasaki Rōshi.

A traditional Farewell Funeral Service for the Great Master, called Shinsō-shiki was taken place at Rinzai-ji on Monday, August 25 & Tuesday, August 26th honoring Jōshu Sasaki Rōshi. Over 150 of his disciples shared the deepest sadness. We were deeply moved to witness the highest honor & respect from special guest Rōshies from Japan and United States attending the ceremony.

The leader of Tsūya, the memorial vigil: Toya Doshi – Kiryu-ken Rodaishi (Akihisa Minakawa Rōshi) from Zuiryu-ji, Sapporo which is Roshi's first temple.

The leaders of Shinsō: Hinko Dōshi – Dongeshitsu Rōdaishi (Shunan Noritake Rōshi) from Reiun-in, Myoshin-ji, Kyoto who has over 40 years of friendship with Roshi.

Shusō -Kiunken Rōdaishi (Dogen Yoshida Rōshi) from Zuigan-ji, Miyagi where Roshi trained as a monk and received Dharma transmission from his teacher, Joten Miura Roshi.

Eido Shimano Rōshi from New York
Shinge Sherry Chayat Rōshi from Kongō-ji, NY
Egyoku Wendy Nakao Rōshi from Los Angeles Zen Center, CA