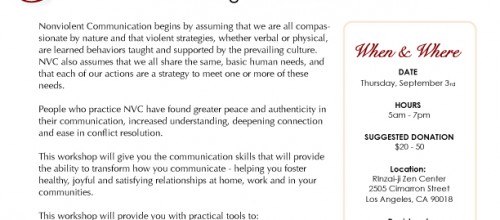 Rinzai-ji Zen Center warmly invites you to join us for the following upcoming event, Nonviolent Communication Workshop with Bill Stierle next Thursday | 5-7pm.
Please see the info below for details. 
E-mail
 or call us to register and also let us know if you're planning to stay at the zen center. We deeply appreciate your generous donation on suggested amount or beyond as we're hoping to cover a cost of the event.
We hope that you will join us and we look forward to seeing you soon!
Gassho,
Rinzai-ji Staff